Located 20 km south of Dubrovnik, Cavtat is the most southerly Croatian resort of all. It is a beautiful resort town which also really scenic.
It is a great place to head to if you want to see all the sights of Croatia, but also want to avoid the hustle and bustle of tourists in summer. You can travel to Cavtat from Dubrovnik by bus or by boat.
Let us explore some of the best things to do in Cavtat, Croatia.
The House of Vlaho Bukovac
The museum and once the home of the famous artist, Vlaho Bukovac is considered one of the founders of modern Croatian painting. Born in Cavtat in 1855, he started his artistic career in Paris, training at the École des Beaux-Arts before exhibiting his works in the city.
He became an important figure in the art scene in Croatia. Now the museum features 200 paintings, sketches, drawings and other documents relevant to the artist's life.
Racic Mausoleum
The Racic family were a well-known ship-owning family and they all had died within a small time frame. This cemetery is located on the highest part of the Rat Peninsula and is a white octagonal mausoleum.
Ivo and his children died within months under different circumstances. Ivo's wife died a year after her kids and wanted the family to be buried together.
Rector's Palace
Rector's Palace is a Renaissance palace turned into an art gallery. The palace today houses ver 35,000 artifacts, graphics, and old weapons.
They also have an in-house library which is worth checking out. This museum is a definite must-see on your Cavtat trip.
Church Of Our Lady Of The Snow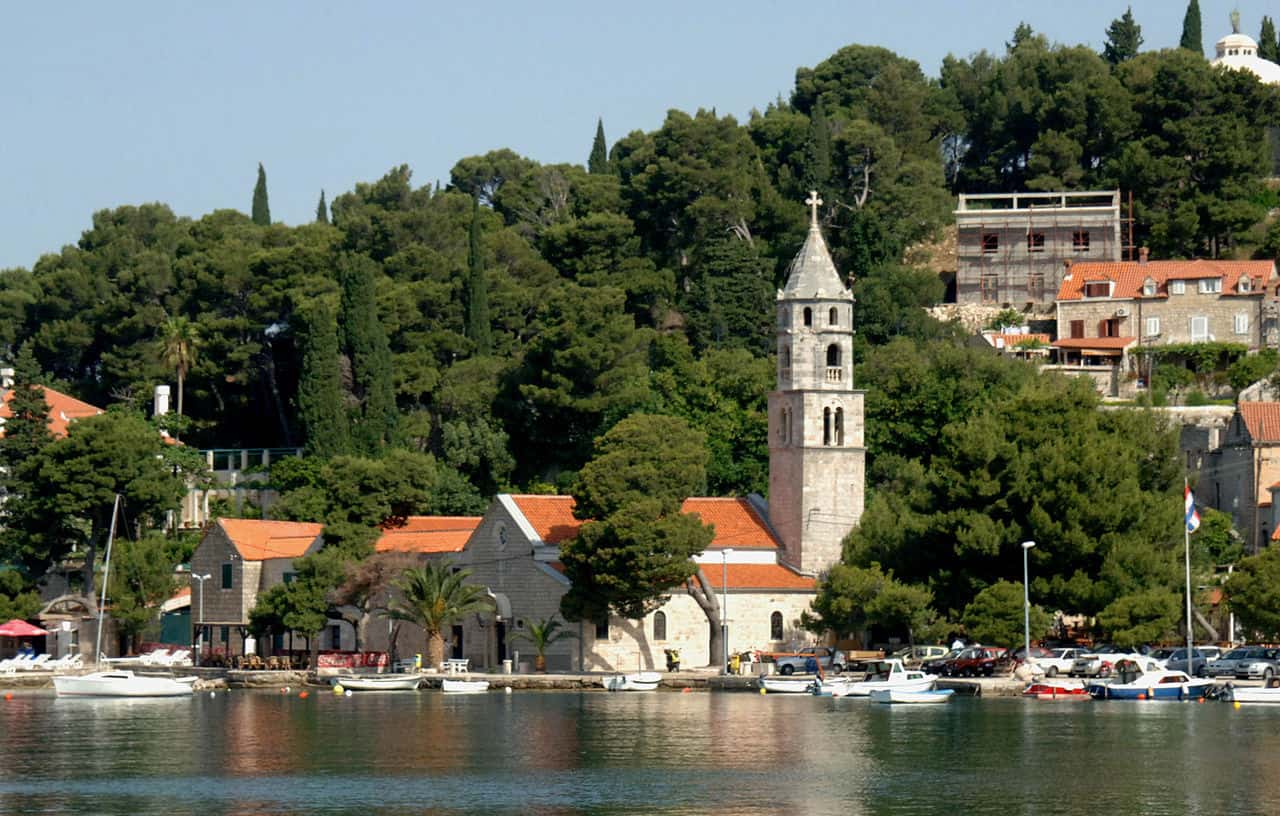 This lovely structure was built in the 15th and 16th centuries and is an architectural masterpiece. The church has works of the famous artist Icko Lovrin Dobricevic and the influence of byzantine iconography, which makes it worth seeing.
Sipun Cave
If you have some extra time on your hands, do explore this hidden treasure of Cavtat. Sipun Caves is known for its large lake and its great hall of icicle-like clusters.
You can visit here and explore these marvellous clusters at your own pace.
Eating out in Cavtat
There are plenty of really amazing eateries in the city. Start by visiting La Boheme which is located overlooking the sea. You can sample from a nice selection of Croatian and European dishes.
For drinks, you can visit, Ankora which is great for its wine and cocktails. They serve tapas too!
St. Nicholas Church
This small church is situated in the fortified city of Cavtat. It has a rounded top bell tower giving the city a characteristic flavor in the skyline.
he interior of the Church can best be described as portraying the simplistic aura along with a few evangelical paintings. It is a baroque style church.
Seaside Promenade
Whatever you do, don't forget to take a lazy stroll along the picturesque promenade of Cavtat. It is lined with palm trees and is ideal for walking.
There are few cafes and restaurants as well where you can sit down, have a coffee and enjoy the view.
Enjoy the beaches in Cavtat
Just like all the other destinations in Croatia, Cavtat is also blessed with some amazing beaches. Some beaches you can go to are Kljucice Beach, public beach at Tiha Bay, Zal Beach, Sustjepan Beach.
Visit the islands
Supetar, Bobora, and Mrkran belong to a group called the Cavtat Islands. You can head to the island of Supetar to find a restaurant, shaded terrace, basketball court, football field, and restrooms.
This is a great option for those who want to escape the crowded beaches of the mainland.
Conclusion
Cavtat can be a great destination after you visit the crowded islands of Dubrovnik and Split. This will feel much more calmer, devoid of crowds but equally beautiful.