If waterfalls are your thing, then Croatia will make you happy and how. The country has more waterfalls per square kilometre than just about any other place on the planet.
Plus, all these waterfalls are beautiful in their own way and definitely makes you want to visit each and every one of them.
Let us explore some of the best Croatian waterfalls which are worth visiting.
Skradinski Buk
The largest waterfall in River Krka, it is located near the town of Skradin on Croatia's peninsula between the Adriatic Sea and Bosnia and Herzegovina.
Skradinski Buk is a collection of 20 waterfalls that make a wonderful sight no matter how many times you visit it. Known more for their breadth than height, the falls are nearly 300 feet wide in areas and are nearly a half-mile long.
If you come in the summer months, you will be able to enjoy a huge natural pool where you can jump in to cool off. You can take a ferry to these falls or hike via well-marked parks and bridges to get here.
Rastoke Waterfalls
Located in the remote place of Rastoke lying in the proximity of the city of Slunj, are Rastoke waterfalls. These beautiful emerald-like waterfalls make for a great picture point.
Just an hours drive north of the main park area of Plitvice Lakes National Park, these waterfalls are less visited than those of the national park. So, if you want to soak in some beauty but want some peace and quiet as well, then this is the place to be.
Also look out for waterwheels which dot the river, which is also popular with photography enthusiasts and Insta lovers. There are many lodging facilities available here as well if you wish to stay over.
Kotli Waterfall
Kotli Waterfall is also blissfully green and emerald in colour, like many other waterfalls in Croatia. The waterfall is made up of many mini waterfalls plus a natural jacuzzi too.
You will find many locals heading to the jacuzzi for a swim and it is one of the most well-kept secrets in Istria.
You will also find a long-abandoned waterwheel and viaduct system that was used to provide water to homes and villages. The dramatic rocks that surround the waterfall and river are littered with hiking trails that'll let you get as close as you'd like to the attractions.
Strbacki Buk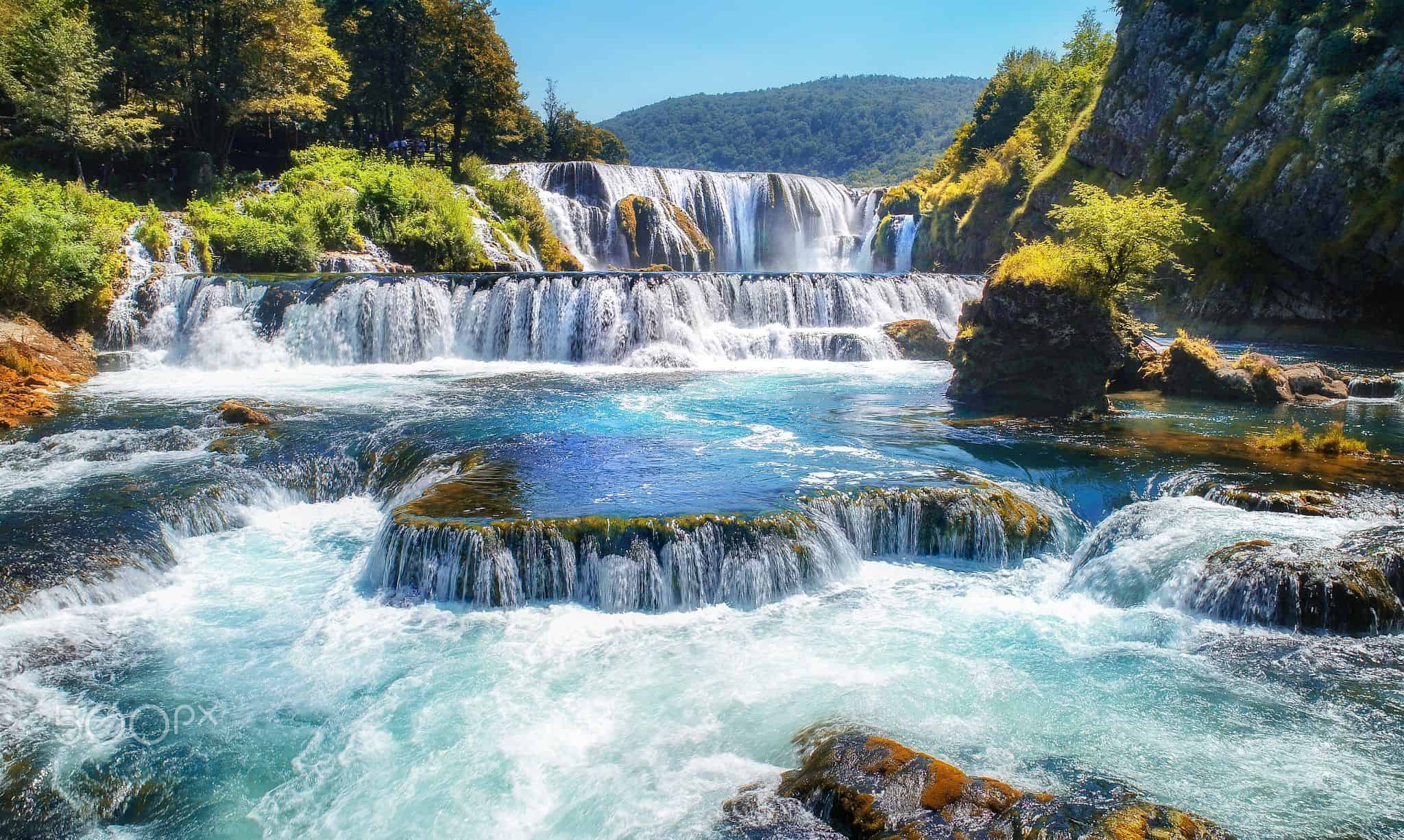 Located on the Una River, Strbacki Buk is also a premier attraction and waterfall in Croatia. It is a collection of waterfalls that cascades into the Una river.
It is around 80 feet high, the allure of Strbacki Buk is mostly due to its size. In addition to their height, the waterfalls are also characterised by their mossy, green rock outcroppings jutting through the falling waters.
There are many viewing areas which visitors can take advantage of, including many benches for picnic lunches as well.
Zarecki Krov
Located on the Pazinicia River, Zarecki Krov cascades over a cave that kind of acts as a roof over the river. The result is a sight to be seen with your own eyes so that you can admire the beauty.
Located just a short drive from the town of Pazin, the water collects into a crystal clear pool at the bottom. Visit the waterfall during a warm sunny day when you can see young couples relaxing, swimming and sharing a picnic lunch by the river's side.
Gologoricki Dol Waterfalls
The beautiful Gologoricki Dol waterfalls are situated near the town of Cerovlje in the peninsular region of Istria. Like other waterfalls in the country, these are beautiful and a must-see.
Surrounded by charming city hamlets, you can have the opportunity to get acquainted with Croatian culture before you go off for a dip in the water.
It is located on a farm and you can reach the falls by foot, horse, or coach.
Butori Ponor Waterfalls
Butori Ponor Waterfalls are located in the village of Momjan in the central part of Istria. Here you can see the beautiful and crystal clear river or Ardila falling from a major height to form a waterfall.
It forms a scenic gorge on its way down too. The waterfall is set in a small, rural setting and is like a hidden gem.
You will also be able to find old water wheels, which are as much a part of Croatia as windmills are of Holland. Here visitors can climb on the scenic hilltop to get spectacular views of the city.
Veliki Slap (Great Waterfall)
Located in the scenic Plitvice Lakes National Park, Veliki Slap is one of the most beautiful waterfalls in Croatia. It is also referred to as the Big Fall by travellers.
The waterfall is at over 250 feet and is the highest waterfall in the national park. It is located along the Korana River.
The area is full of beautiful vistas, clear water, clean surroundings and beautiful sights. There are many trails near the falls which the visitors can take advantage of.
You can also do fishing in these waters.
Sastavci Waterfalls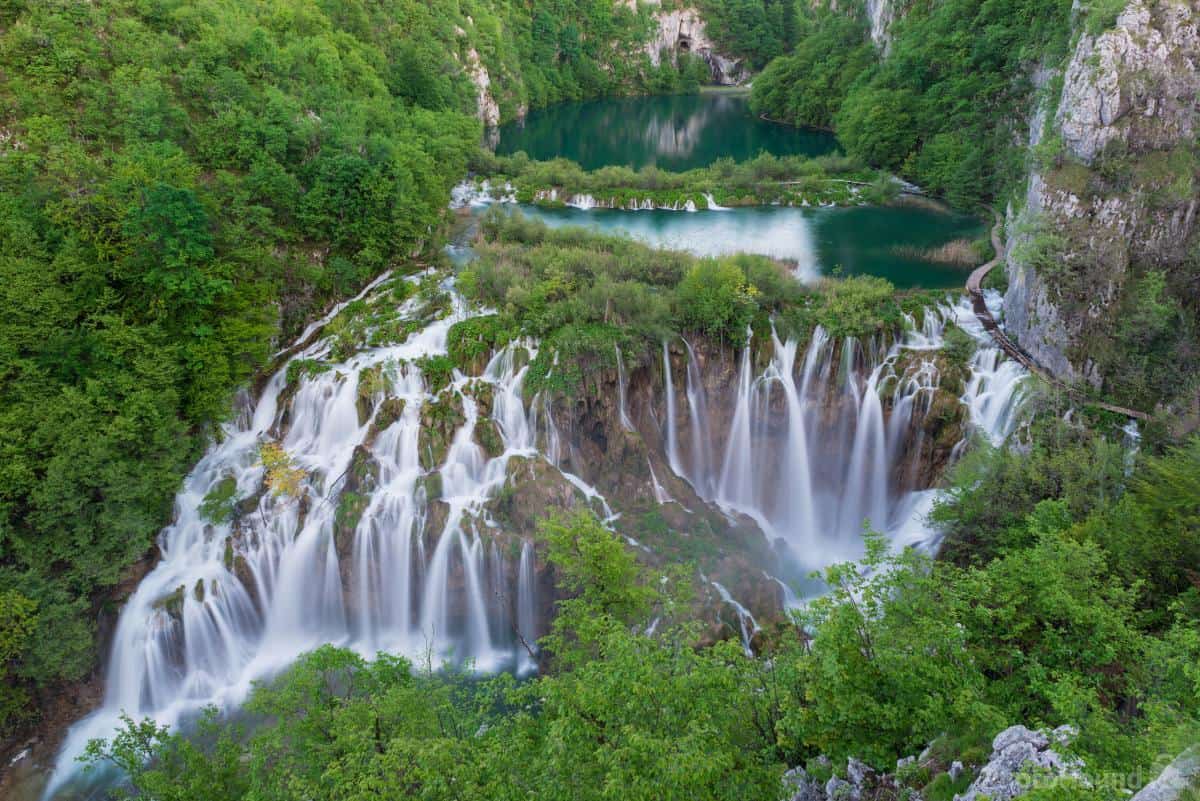 Located on the Korana River, Sastavci Waterfalls has a drop of nearly 80 feet. The waterfall is in the lower lakes area of Plitvice Lakes National Park, and it is a sight to see.
If you see it from a distance, you will think that the landscape is made up of nothing but waterfalls. It might be one of the most beautiful waterfalls you will ever see in your life.
It is comprised of multiple tiers, the water travels over dramatic outcroppings of dark brown rocks, before landing in the clear pool below.
The best part is that not many know of this waterfall, and it may be entirely secluded when you visit it.
Roski Waterfall
Situated right next to the Skradinski Buk, Roski waterfall is another beautiful waterfall in Krka National Park. This area is a favourite with hikers who love this perennial waterfall.
The waterfall actually consists of 12 joined waterfalls with a fall of nearly 80 feet, the falls are nearly 2,000 feet long, which makes these falls absolutely gorgeous.
Pevalekovi Slap
The Pevalekovi Slap is also located in Plitvice Lakes National Park, and the waterfall is 50 foot high. This waterfall has a semicircular crest that is almost 50 feet high and collects into an impressive and clear water pool below.
The crystal clear pool below makes the waterfall look really picturesque and more like a postcard. The falls are surrounded by sheer rock faces spotted with thick forest.
Mali Buk Waterfall
Situated in the upper lakes portion of Plitvice Lakes National Park and it is famous for its remote location and serenity. Since it is half an hour hike away from the ferry dock, not many people rich till here which is why you might just have the entire waterfall to yourself.
If you want to stay away from pesky crowds in the summer, but also enjoy nature, this is the place to be. It is surrounded by clear blue lakes and the water is so clear you can also see the fish at the bottom.
Sopot Waterfall
Definitely one of the tallest waterfalls in the country, at 100 feet, Sopot waterfall in Labin is also one of the most scenic waterfalls to check out. Carved into the surrounding limestone over thousands of years, these waterfalls are surrounded by beautiful scenery.
Conclusion
Croatia is a beautiful country blessed with many waterfalls which you can explore. No matter how many you see, there is always room for more!