One of the most enchanting regions of Croatia is Istria. The region delights everyone from history buffs to beach lovers and cafe hoppers.
Istria is a long, indented coastline in the Adriatic Sea which represents Croatian tourism at its most diverse. The region is dotted with many rocky beaches and fascinating coastal towns that deserve a visit.
Let us explore things to do in Istria.
Rovinj
The hilly town of Rovinj is one of the most popular tourist spots in Istria. If you see the city from the coast, you will see many pastel-colored houses near the coast shining in the sun. 
It makes for a beautiful sight. The Venetian bell tower of the St Euphemia Cathedral extends like a punctuation point to the sky.
You will see many marks of the Venetian empire throughout the town. Look out for the Venetian lion which decorates many buildings and churches.
Rovinj has close cultural ties with Italy which is why you will see many tourists from Venice and Italy flock to Istria in the summer via the fast boats. Restaurants augment local seafood with creative pasta and pizza dishes inspired by Italian food.
There are many places to explore in Rovinj like the Old Town which has lovely old buildings and fountains. You can also explore the Cathedral of St Euphemia for which you will have to climb a hill.
If you want to experience something different, then hop on a boat to the Red Island where you can relax on secluded beaches. End your tour by having a drink at the Valentino Beach Bar.
Pula Arena
One of the most recognised sights in Istria, Pula Arena deserves at least one visit. This 2000-year old Roman amphitheatre in Pula evokes the days of gladiators.
Built during the reign of Emperor Augustus (31BC-14AD), it was expanded over the centuries and finally took shape during the reign of Emperor Vespasianus (69-96AD). It is one of the six largest Roman amphitheaters in the world and the only one to have four side towers and all three levels preserved.
There are three parts to the theatre: where the gladiatorial events were staged; the spectator seats; a subterranean gallery. The amphitheater is open for visits daily from 8 or 9 am to nightfall and many concerts and events now take place in the arena.
Brijuni Islands National Park
Located 6 km away from Pula off the Istrian coast is Brijuni Islands, National Park. There are two main islands here Mali Brijun and Veli Brijun.
Veli Brijuni is a lovely and well-manicured park and you can find many Mediterranean plants and trees like stone pine, pine, cedar, sequoia, eucalyptus and bamboo.
You can tour the park via a mini-train and they will also provide you with an English-speaking guide.
Poreč
Poreč is something of a cross between Rovinj and Pula. It depends what time of the year you arrive at.
If you visit from May to late September, then you will find that it is engulfed by mass-market tourism. The Euphrasian Basilica & Bishop's Palace is one of the most historically important sights in Croatia.
The resort hotels are outside town, on a green strip where pine forests run-up to the beach. There are Valamar Jazz Festival in July which you can attend as well.
Motovun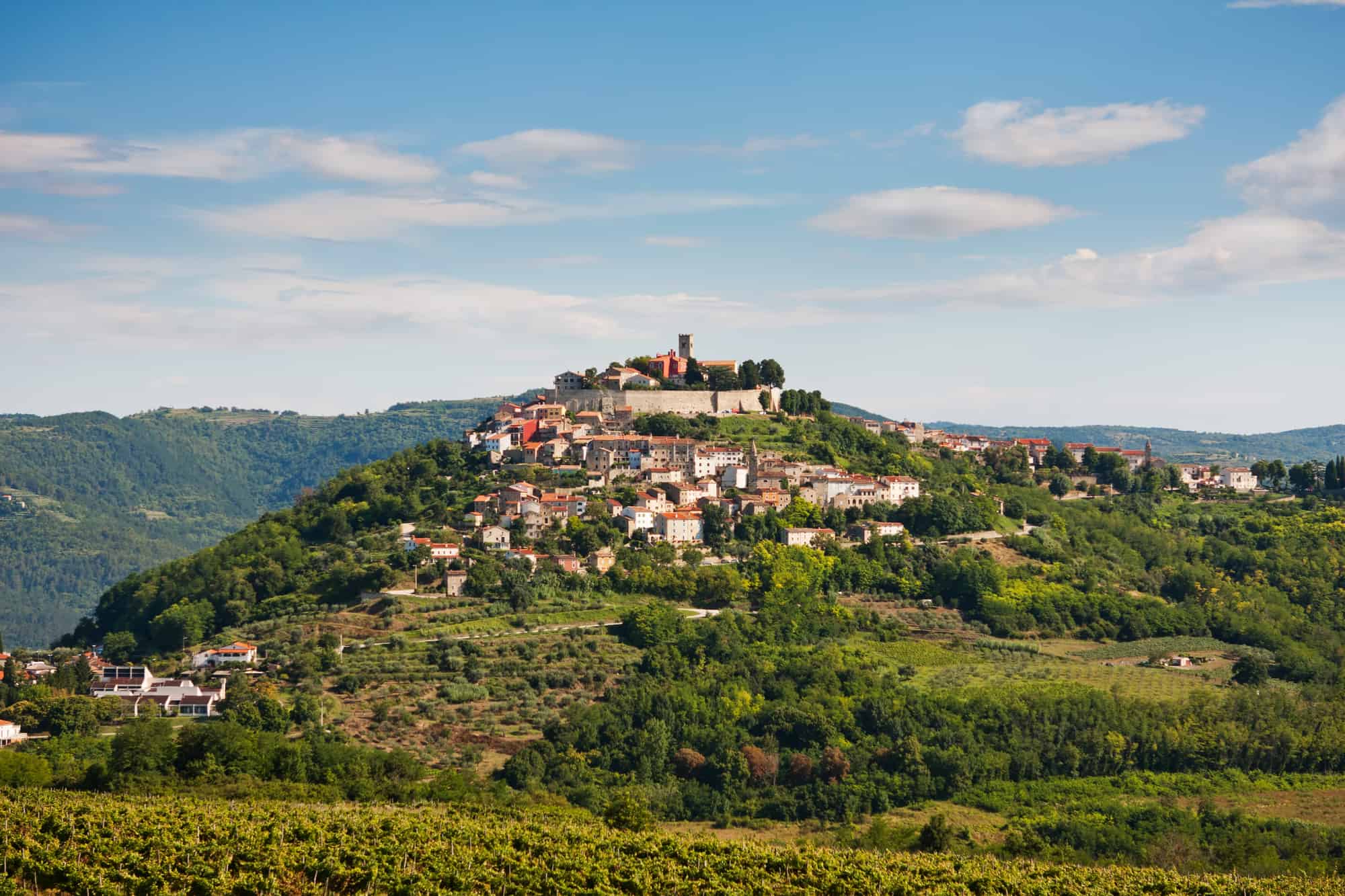 Motovun is a hill town in Istria and also one of the most popular ones. Motovun (Montona) is an attractive clump of medieval houses straddling a green wooded hill.
It is now best known for a film festival which transforms this sleepy town into a bustling one. The festival started in 1999 and the festival has established itself as Croatia's premier cinematic event. 
Here there are feature films where many people attend the festival. This is one of the key social events of the summer and most are here to enjoy the 24-hour party atmosphere.
Novigrad
You can reach Novigrad by a regular bus as it is located in the northern part of Croatia, close to Italy. It can be seen as a charming town by the sea.
It isn't cramped up like Rovinj, in fact, this can be a laid back vacation spot. You can choose from one of the privately run hotels to stay here as they have a lot of character.
Less than 4000 people stay here, but there are many restaurants, bars and cafes here that you can find.
Conclusion
Istria can be a fantastic vacation spot full of history, beaches, and fun. If you want to explore the historic part of Croatia, this is the place to be.